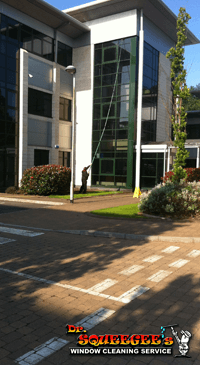 Dr. Squeegee's services many well known companies over South Wales. If you have a shop, office block or industrial complex then please get in touch for our ultra competitive quotes for window cleaning using the following cutting edge technology….
For window cleaning, We use the Reach and Wash system, which has many benefits:
Cleans up to 72 feet (7 floors)
Cleans Windows, Glass Roofs, Signs, Atria, Paneling, Canopies and facades with ease to a spot free finish
Cleans frames at the same time as the glass
Eliminates the use of ladders
Allows operators to work from the safety of the ground
Reaches previously inaccessible windows with ease
Allows easy access over obstructions such as conservatories and flower beds
Environmentally friendly as no chemicals are used
Maintains privacy with reduced disturbance
For a quote on Residential cleans please feel free to phone our office on 01633 770049 between the hours of 9am and 5pm Monday to Friday or click here for a free quote.
DR SQUEEGEE'S – EVER THE LEADERS, NEVER THE FOLLOWERS…PROVIDING SPOTLESS RESULTS WITH EACH AND EVERY CLEAN.