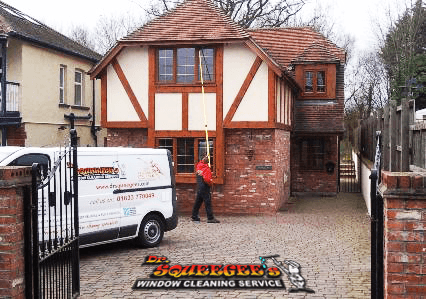 Dr Squeegee's has always been a company that embraces technology and over the past few years we have developed the business by using the Reach and Wash system. Our eight vans working across the Torfaen and South Wales area provide the best window cleaning solutions on the market by using this system but unlike many other companies we have our own Dr Squeegee's brush which has been specifically developed to cause no damage to the windows of our customers.
Even though we mainly use the Reach and Wash system for cleaning Residential Housing we can also provide our customers with traditional methods of cleaning if that is what they wish for their residential property as some people prefer to see the window cleaner working in a specific way but all of this can be discussed and identified with a member of our project team before any clean takes place.
Dr Squeegee's can provide the client with a one off or regular residential clean working along the principles of a 2,4,6 or 8 week cycle and once again all of this can be discussed with a project team member as our main priority is customer satisfaction. We also now have a number of quality control procedures in place to monitor the staff and cleans as by being the market leader in Torfaen and South Wales many try to copy what we do but we are continually evaluating and developing our service to customers.
For a quote on Residential cleans please feel free to phone our office on 01633 770049 between the hours of 9am and 5pm Monday to Friday or click here for a free quote.
DR SQUEEGEE'S – EVER THE LEADERS, NEVER THE FOLLOWERS…PROVIDING SPOTLESS RESULTS WITH EACH AND EVERY CLEAN.